Arlington Dedication for CPT Brian Richard Faunce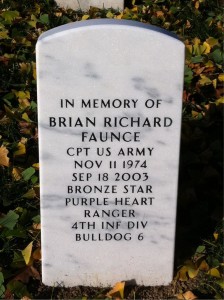 It's been a long journey but we finally have a Memorial Marker to honor Brian in Arlington National Cemetery, Section MK.
A service with Full Honors is planned for Thursday, May 7th. The family is hosting a reception afterwards at Ft Myers Officers Club for socializing, snacks, and cash bar. All are welcome!
Note: photo ID required to get on Ft Myers; the base has requested a list of names to facilitate security check. Please let us know if you plan to attend the service and / or reception. Judy Faunce can be reached at (732) 977-7019 or jgfaunce@verizon.net.
Memorial Service for CPT Brian Richard Faunce
Date/Time: Thursday, May 7, 2015; 3:00 pm
Arrival Time: 2:00 pm
Arrival Place: ANC Administration Building
Post Service Reception
Location: Joint Base Myers Henderson Hall – Officer Club
(adjacent to Arlington National Cemetery)
Time: 4:00 pm – 6:00 pm
Lodging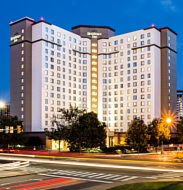 Residence Inn Arlington Pentagon City
550 Army Navy Drive
Arlington VA 22202
800-311-3131
CPT Brian Faunce Memorial Service Room Block
Book it! Discounted rate for our group
$199/night + 13% tax and $26/night for parking
Room rate good for 5/6 and/or 5/7
Two night stay is NOT required
Cut-off date is 4/15/15 – any unreserved rooms will be released
**Please note that if you book online and select a check-in prior to 05/06/2015 or check-out beyond 05/08/2015, the system will respond that there are no rooms available.