Penn State ROTC Award 2014 – Matthew Santamaria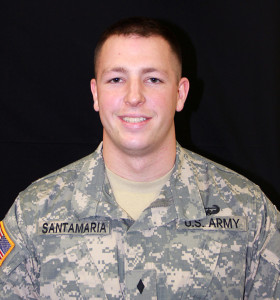 The CPT Brian Faunce Memorial Fund presented its eleventh annual ROTC award to graduating Penn State University senior Matthew Santamaria.
This award is given to the Penn State Army ROTC student who best demonstrates the spirit, leadership and courage of CPT Faunce.
The $1,500 award helps the recipient begin their military career with a gift card to AAFES (for the purchase of uniforms, boots, and other required gear).
Collegiate Accomplishments
Matthew is a Dean's List Criminal Justice major who earned a 3.43 GPA. His Cadet Duty position was Charlie Company Commander.
He kept particularly busy his senior year, serving as captain of the Ranger Challenge Club, Resident Assistant of Wenwood Court, and volunteering at the local VA hospital.
Among Matthew's Army ROTC accomplishments these past four years are:
Distinguished Military Graduate, 2013
Army Physical Fitness Test Score: 289
Ranked in top five of LDAC Platoon, 2013
Overall E rating at LDAC, 2013
General Morgan Award, 2011
Air Assault School, 2012
Cadet Troop Leader Training, 2013
Captain of Ranger Challenge Club, 2013 – 14
Matthew's collegiate highlights also include an internship with the Huntingdon County Sheriff's Department, and the honor of being chosen to represent his fellow cadets as guest speaker for a campus Veteran's Day event in 2011.
New Military Career
Upon graduation in May, Matthew was commissioned in the Infantry Branch as a 2nd Lieutenant. He is currently entering his sixth week of IBOLC in Fort Fort Benning, Georgia. In November, he is lined up for Ranger School.
Congratulations Matthew! We wish him the best in all his future endeavors.