Holly Brewer Finishing Up Law School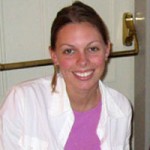 Our very first CPT Brian Faunce Award winner, Holly Brewer from 2004, is currently in her last year of law school at the University of Memphis. Upon graduating and passing the bar exam, she hopes to apply for a position as an Assistant District Attorney.
Last summer she interned with the Shelby County District Attorney's Office in Memphis, where she worked for the gang prosecution unit and was successful in seeking a
nuisance injunction against one of the local gangs.
In the fall, she worked on the felony preliminary hearing team and got to conduct preliminary hearings in the courtroom. Currently she is working in the Political Corruption and White Collar Crime prosecution unit.
Holly hasn't forgotten her military roots. As part of her school's pro bono program, she is helping found a Veterans' Benefits Pro Bono Program. This entails recruiting attorneys experienced and willing to offer free services to veterans, as well as train other attorneys.
She and her husband are planning a trip to Italy in September to celebrate her graduation from law school. Bon voyage Holly, and enjoy a well deserved vacation!