Penn State ROTC Award 2013 – Jacob Ahle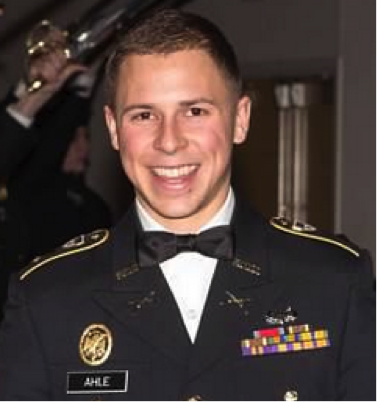 The CPT Brian Faunce Memorial Fund presented its tenth annual ROTC award to graduating Penn State University senior Jacob Ahle.
This award is given to the Penn State Army ROTC student who best demonstrates the spirit, leadership and courage of CPT Faunce.
The $1,500 award helps the recipient begin their military career with a gift card to AAFES (for the purchase of uniforms, boots, and other required gear).
Collegiate Accomplishments
Jake is a Dean's List Economics major who earned a 3.70 GPA. His Cadet Duty positions included Battalion Commander and Ranger Club Commander.
He also led the Nittany Lion Battalion to a remarkable 1st place, ROTC division, and 2nd place overall finish at the 2013 Sandhurst Internation Military Competition, making Penn State the top US team in the country!
Among Jake's Army ROTC accomplishments these past four years are:
National Order of Merit List Ranking: 212 – Distinguished Military Graduate
Army Physical Fitness Test Score: 300+
Competed in Ranger Challenge all four years; Team Captain 2012
Competed in Sandhurst International Military Competition three years; Team Captain 2012
MSL I Superior Cadet Decoration Award
MSL IV Superior Cadet Decoration Award
Military Order of World Wars Award
National Sojourners Award
Platinum Medal Athlete
Jake also participated in many extra-curricular activities, including Intramural soccer, volleyball, football, roller hockey, and Penn State Debate.
New Military Career
Upon graduation in May, Jake was commissioned in the Infantry Branch as a 2nd Lieutenant. He is currently on temporary duty at Fort Lewis, Washington as a cadre member helping train the MS III ROTC Cadets during their summer training – the infamous "LDAC." In August he reports to Fort Benning, Georgia for Infantry Officer School, Ranger School, and Airborne School.
Congratulations Jake! We wish him the best in all his future endeavors.