NJ Run for the Fallen 2012
October 2, 2012 by CPT Brian Faunce Memorial Fund 0 comments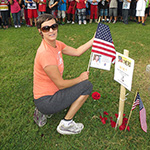 Last week Brian's mother and sister participated in the NJ Run for the Fallen. This annual event is a organization of runners and support crew whose mission is clear and simple: To run one mile for every New Jersey service member killed in Operation Iraqi Freedom, Enduring Freedom and New Dawn. Each mile of sweat and pain and each flag saluted, is to pay homage to one service member's life and their family. The organization's stated goals are:
Raise awareness for the lives of those who fought and died
Rejuvenate their memories and keep their spirits alive
Support organizations that aid the families of those killed
Aid in the healing process for the native New Jersey residents whose lives have been affected by the war.
Run for the Fallen refuses any political affiliation or agenda, but simply honors those who have fought, and those who have fallen under the American flag.
The children of
Charles Sandman Elementary
school presented Brian's family with handmade notes of thanks.
A big thank you goes out to the children, administration, and teachers of the school – your efforts made Mile Marker #7 extra special. Thank you for your support!