Penn State ROTC Award 2012 – Kelsie Smith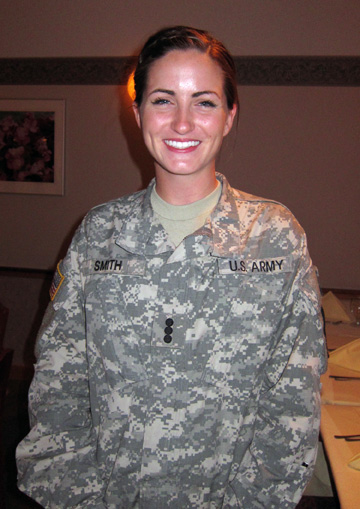 The CPT Brian Faunce Memorial Fund presented its ninth annual ROTC award to graduating Penn State University senior Kelsie Smith. This award is given to the Penn State Army ROTC student who best demonstrates the spirit, leadership and courage of CPT Faunce. The $1,500 award helps the recipient begin their military career with a gift card to AAFES (for the purchase of uniforms, boots, and other required gear).
Kelsie is a Science major who earned a 3.40 GPA. Among Kelsie's Army ROTC accomplishments these past four years are:
National Order of Merit List Ranking: 877 – Distinguished Military Graduate.
Earned an overall E or Exceeds the Standard rating at Leadership Development and Assessment Course (LDAC) 2011.
Served as company commander in her senior year.
Participated in Running Club and ROTC IM soccer.
Implemented a weekly training program, including skills tracking and remedial labs, which yielded great improvements among the cadre's preparedness for LDAC.
Developed a weekly drill and ceremony (D&C) training program.
Kelsie also distinguished herself with her many extra-curricular volunteer activities.
Participated in Combat Readiness Training (CRT), serving as commanding officer (CO) of CRT in her junior year.
Participated in THON club (the largest student-run philanthropy in the world, devoted to conquering childhood cancer), serving as XO of THON in her junior year.
Volunteered at State College High as a tutor for 2-3 hours each week.
Helps organize an annual 5K run called Free to Breathe to raise money and awareness for lung cancer research.
Volunteered as project manager for a Centre County church initiative called CityServe, repairing and improving a local animal shelter's facilities.
Job shadowed with a plastic surgeon at Hershey Medical Center in August 2010.
Upon graduation in May, Kelsie will be commissioned in the Signal Corps Branch as a 2nd Lieutenant, with her first Cadet Duty position being Alpha Company CO in Alaska. We wish her the best in all her future endeavors.
Congratulations Kelsie!