Brian to be Honored at NJ Run for the Fallen 2011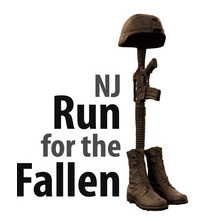 Over the weekend of September 23-25, a team of 48 dedicated runners will run from Cape May, NJ, to Holmdel, NJ. Each mile will be run for a New Jersey Soldier, Sailor, Airmen, or Marine killed in Operation IRAQI FREEDOM and ENDURING FREEDOM.
For three days, NJ Run for the Fallen team members will mark each mile with an American flag and sign a card in an apolitical reflection of remembrance of each service member. The runners will be comprised of active duty and reserve Airmen and Soldiers from Joint Base McGuire-Dix-Lakehurst, NJ.
Each mile of sweat and pain and each flag saluted, is to pay homage to one service member's life and their family.
CPT Brian Faunce will be honored at mile marker #7 on Friday 9/28. Approximate time is 9:40 AM.