Law School and the Last Frontier
News from two of our Penn State alumni and past CPT Brian Faunce Memorial Award winners.
Holly Brewer, our very first award winner in 2004, will be starting law school at the University of Memphis in August. Dan Frechette, award winner 2007, wrote to us from the Last Frontier in Alaska to say he has finished Airborne School, and will be taking command of an artillery battery this month – unit Alpha Battery, 2nd Battalion, 377th Parachute Field Artillery Regiment.  He says this is the job he's wanted since giving up his platoon almost two years ago.
Best wishes Holly and Dan, and thanks for keeping in touch with us!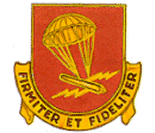 The mission of the 2nd Battalion (Airborne), 377th Field Artillery Regiment is to reset and retrain the Battalion in order to build lethal sections and platoons prepared for combat operations, serviceable equipment ready for deployment, and strong paratroopers and families able to endure a lengthy deployment.