Penn State ROTC Award 2008 – Tony Nicosia
UNIVERSITY PARK, PA, May 1, 2008 — The CPT Brian Faunce Memorial Fund presented its fifth annual ROTC award to graduating Penn State University senior Tony Nicosia. Tony is a History major with a minor in Military Studies who earned a 3.02 GPA. He served as Company Tactical Officer and was a member of the Cadet Recruiting Team. Like Brian, Tony was active in the Ranger Club, both being selected as Captain of the Ranger Club during their senior year. Tony was also a member of the Army Intramural Football and Army 10 Miler Teams. His recognitions include Multiplatinum medal athlete and Cadet Academic Award.
Upon graduation in May, Tony was commissioned in the Armor Branch as a 2nd Lieutenant. He will remain in State College until the beginning of next year to recruit for the Army ROTC program at Penn State.
Tony writes to the Faunce family:
"I cannot thank you enough for the award that not only carries your Brian's name, but also his sacrifice for this great nation.
With great humility, Tony Nicosia"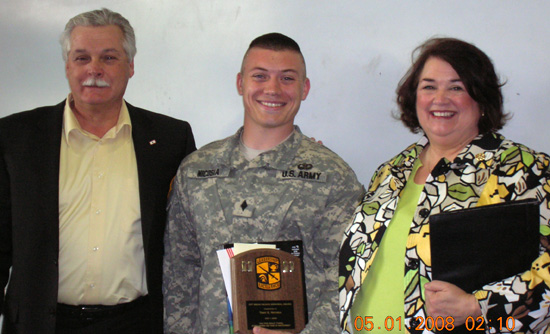 Congratulating Anthony on award night.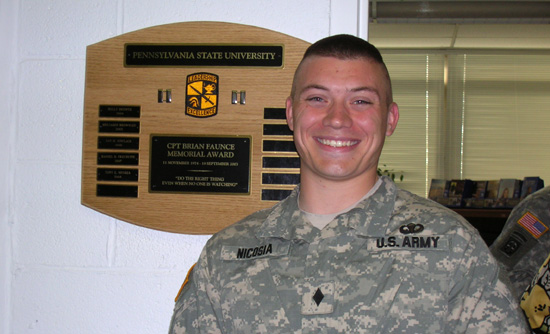 In front of the CPT Brian Faunce Memorial perpetual plaque.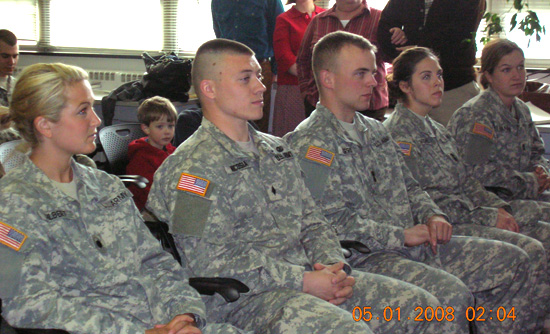 Once again, an outstanding field of candidates and a very difficult choice for the Faunce Family.