Thank You for Your Support!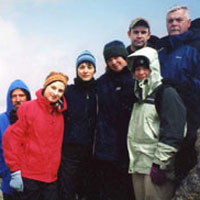 We would like to thank our many family and friends, neighbors and co-workers who contributed generously to the CPT Brian Faunce Memorial Fund. Thank you for your love and support as we cope with our tremendous loss.
A special thank you to all our soldiers still serving our country abroad in Iraq and elsewhere; we wish all of you a safe and swift return.
A very special thank you to all the soldiers of Task Force 1-68 Armor Battalion, 3rd Brigade, 4th ID, who served with Brian in Iraq and who took up a collection in his name, sending it directly to the Army ROTC program at Penn State University.
Finally, a note of thanks from the Faunce family to the Hawk Mountain Ranger School, for making Faunce Hall a reality.
Visit our Corporate Sponsors here.