Sandman School Honors Brian
CAPE MAY, NJ, Sept. 27, 2013 — Brian's mile marker at this year's Run for the Fallen once again landed at the Sandman Consolidated School in Cape May, NJ.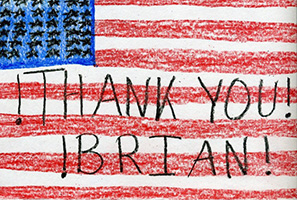 As last year, the students and staff of the Sandman School went out of their way to make our mile marker very special. The Safety Patrol children were out front and center, and accepted the flag from the runners and placed it in the ground.
The music teachers had the students sing and play instruments – giving the runners a well deserved break as they stayed to listen to the children perform.
Perhaps most special of all, the children made handwritten notes and artwork, which were presented to Brian's mother Judy Faunce.
Thank you students and staff of the Sandman School!